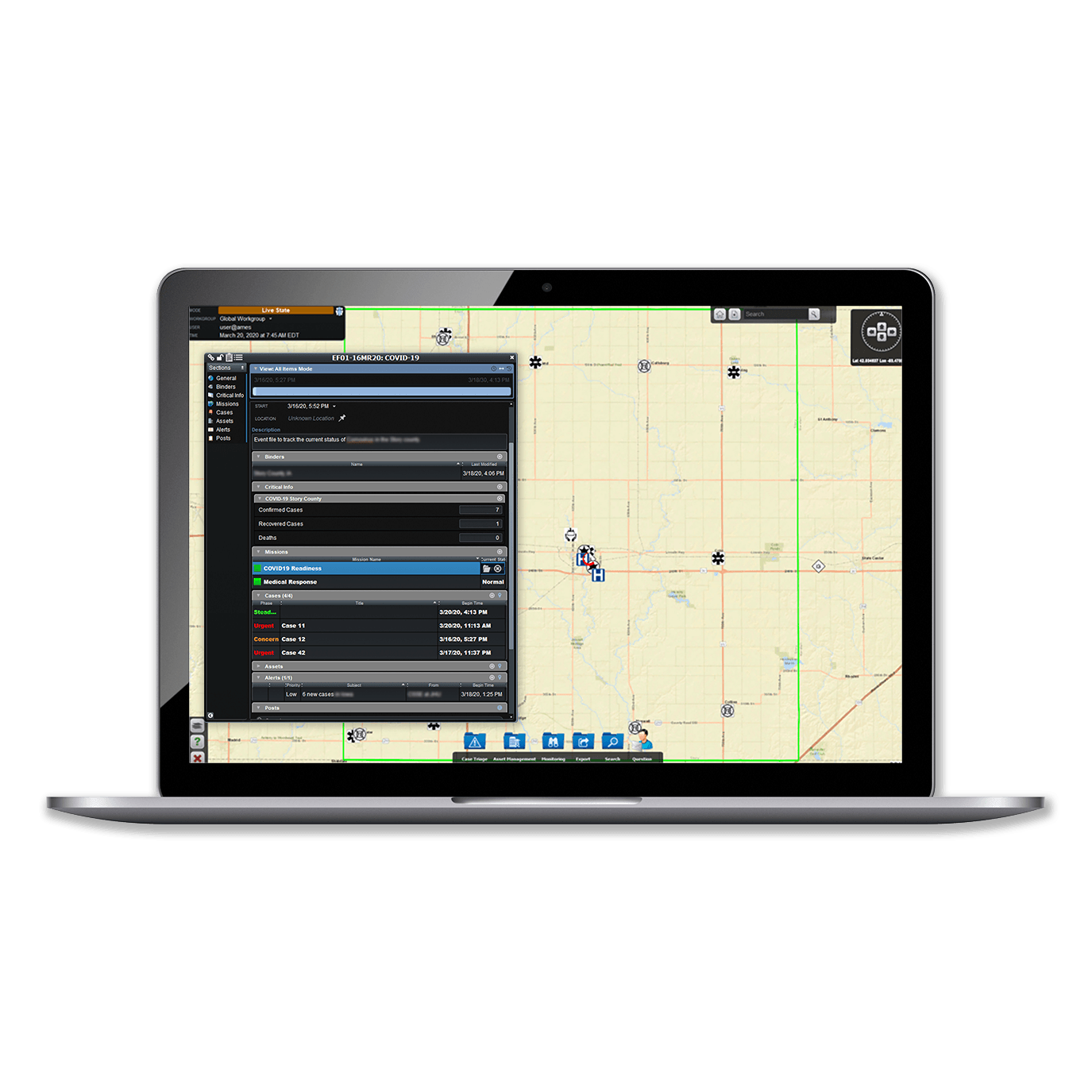 Priority 5 is offering state and local departments and agencies limited licenses for free access to a cloud deployment of a focused version of Priority 5's TACCS™ incident and emergency management software.  (TACCS™-DI) will be available for 10 concurrent users to monitor the status of the COVID-19 outbreak in their respective jurisdictions and guide their responses.  Priority 5 will issue those licenses to each verified, eligible and accepted applicant as described below.  Priority 5 shall have the right to decline applicants and to limit the number of accepted applicants from time to time, in each case at its unfettered discretion.
Access to TACCS™-DI will be licensed only in accordance with the terms and conditions of Priority 5's limited TACCS™- DI license and the TACCS™-DI Program Conditions (containing additional license and other terms and conditions).  The TACCS™-DI License and the TACCS™-DI Program Conditions are set forth here:
TACCS™-DI License
TACCS™-DI Program Conditions
Applications will not be effective if you are not authorized to accept such terms and conditions.
If you have read and understand the TACCS™-DI License and the TACCS™-DI Program Conditions and wish to apply to license the software on your agency's behalf, please complete the application by providing all of the information requested below, and acknowledge your acceptance of the license and program conditions.  Upon acceptance of your application, Priority 5 will provide you with a link to enable ten concurrent users designated by you to access the features of TACCS™-DI available on an AWS server using Android or IOS mobile devices.  Up to two of those users will be able to download and install, on a computer with a Windows 10 operating system and appropriate video card, a software application to allow your agency or department to control certain features of the licensed software and the data to be entered.
PRIORITY 5 IS NOT RESPONSIBLE FOR COMPLIANCE ON THE PART OF ANY END-USER WITH ANY APPLICABLE DATA PRIVACY LAWS THAT WOULD GOVERN THE USE OR DISCLOSURE OF DATA THAT YOU OR YOUR AGENCY OR DEPARTMENT MAY ENTER INTO THE SOFTWARE.  IT IS THE RESPONSIBILITY OF YOU, YOUR INDIVIDUAL USERS AND YOUR AGENCY OR DEPARTMENT TO ENSURE THAT NO DATA ARE USED OR DISCLOSED BY ANY END-USER IN A MANNER THAT WOULD CONSTITUTE A VIOLATION OF APPLICABLE LAWS AND REGULATIONS.  ANY DATA STORED IN THE SOFTWARE AT THE END OF THE LICENSE TERM WILL BE SUBJECT TO BEING DELETED BY THE AWS HOSTING FACILITY OR PRIORITY 5 AFTER 12 HOURS FOLLOWING LICENSE TERMINATION OR EXPIRATION IF NOT SOONER DOWNLOADED OR DELETED BY THE END-USER.